A Family Pond Dipping event is held annually, normally in June. The date can be confirmed on the Event listing.
(The 2015 event is on Sunday, 28th June)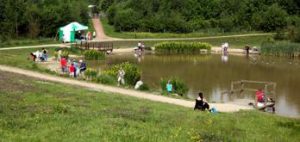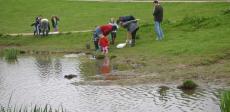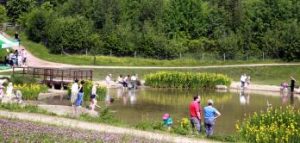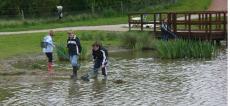 This event forms part of our 'Fun with Learning' program. People of all ages can participate. The Friends provide the nets and sample trays and have available field study sheets to aid identification of the species obtained.
It is very popular with children.
We recommend Wellington boots and tough clothing. A towel and change of socks/trousers is advisable for the children. Getting wet isn't essential though.
The timing of these events is to maximise the probability of seeing different stages of the transformation from tadpole to frog. Water temperature will determine the range of other species present.
Normally the Friends will schedule a second event day to fit in with the overall event calendar.
Specific events are held in conjunction with organisers of uniformed groups, youth groups and schools.
This activity was made possible by a grant from Broxtowe's 'Action Fund 2007-08' scheme. It allowed the purchase of nets, trays and field study sheets.