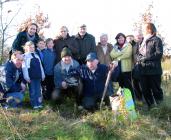 This original project arose from local people requesting that they have the opportunity to plant a tree in memory of a deceased loved one. The site had been fully planted at formation and no provision had been made for further community plantings. A section of the Waterloo Meadow was identified as a suitable location that would not be a major compromise to the meadow area. This was agreed with Broxtowe and made ready for the Memorial Planting Scheme.
Because of the limited area available it was not possible to plant at distances that could ensure that each tree was allowed to mature. Planting is in the form of whips at 2-3m spacing. Whips have a better chance of survival in the ground conditions present. A mixture of fast and slower growing species is used. Thinning will gradually remove the faster growing pioneer species leaving the oaks, rowan, field maple, willow and holly.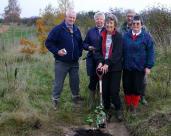 The memorial scheme consists of an epitaph in the memorial book- kept at Durban House for public viewing- and the planting of a whip. The concept is that for the participants the whole copse will be the memorial, rather than individual trees that may be thinned out.
For further information regarding the scheme, please contact the secretary.
For an application form Click Here.
Schedule of Memorial Book entries
Dedication to:			     page number

Allen, Jim				15
Allen, Samuel				15
Baggott, John & Jack			16
Barker, Clifford F.			9
Beer, William "Bill"			6
Berridge, Alan				5
Bostock, Donald				22
Bowler, William				9
Bramman, Keith James			30
Bush, Arthur William			25
Butler, Charles & Connie			6
Carlile, Derrick				28
Carlile, Edith May				28
Carlile, Edna				29
Carlile, Harold Henry (Lal)			28
Carlile, Kenneth Harold			27
Carlile, Kenneth				29
Carlin, Sam & Doris			9
Chambers, Noel & Jane			18
Clarke, Bernard Henry (Bob)			19
Cook, Leonard				21
Cutts, Arthur Brian			10
Dipper, Marion				24
Duckworth, John				10
Eggleston, George				4
Fearn, Marcus				27
Fotherby, Frederick			12
Freeman, Albert Arthur & Robert Cecil	11
Frost, Ernest				1
Gill, Alan				5
Goff, Andrew				10
Gregory, Michael				7
Griffin, Wilfred				11
Gunn, Gladys & Fred			13
Hargreaves, Kerri Elizabeth			31
Harvey, Jack				11
Harvey, Roy				23
Hine, Oliver William			12
Holmes, Freda				21
Hutchinson, Peter				12
Innocent, John (Jack) & Annie		22
Jackson, Ian Lloyd				30
Kenny, Jim				4
Langton, Maxine				7
Layton, Reg				3
Lee, Albert Sidney				6
Lees, Horace & Mary			23
Leivers, Vernice & Charlie			8
Lomax, John Henry				13
Longdon, Alfred				13
Longdon, Jack				17
Maoduš, Mr & Mrs George			25
May, Walter				3
McDaid, Thomas Raymond			7
Meakin, Alice & Sam			14
Mellors, Frederick				8
Moss, Leonard				31
Mutch, William				20
Naylor, Frank				21
Naylor, Goodman				25
Newton, Betty				14
Owen, William Edward			2
Peacey, Stanley				27
Radulovic, Marko				20
Ragozins, Micky				26
Ratcliffe, Cyril				19
Reeve, Walter				17
Robinson, Colin				2
Rose, George & Lucy			23
Searson, Ivan				16
Sharpe, Reuben				5
Shaw & Turner families			26
Simpson, Stanley				22
Slater, Thomas Ernest			16
Smith, Ernest				7
Smith, Herbert				30
Spencer, Frank				18
Stevens, Brian				19
Sumner, James				2
Tansley, Muriel Elizabeth			26
Todd, Rodney				20
Turner, Bill				1
Turner, Herbert & Floss			1
Tustain, Clarence				3
Wetton, Ernest (Mac)			29
Williamson, Matthew			4
Wood, John William				24
Woods, Herbert				15
Wooley, William Henry			14
Wright, Bill (Dodger)			17
Wright, Percy				18
Wyrobek, Roman				8
Yates, William Thomas			24