Colliers Wood is an ideal spot for enjoying outdoor theatre.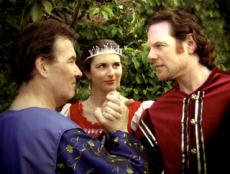 Since 2006, the park has annually hosted
'The Rain or Shine Theatre Company'
– who present high quality, professional Shakespearian productions. Their shows have included 'A Midsummer Nights Dream', 'Twelfth Night', 'A Winters Tale', and in July 2009, 'Taming of the Shrew'. This latter play was to a capacity audience, demonstrating the growing popularity of the event.
These productions are organised as part of the Eastwood Arts Festival and funded by Broxtowe Borough Council and their partner Eastwood Town Council.
Seats are provided and the audience is encouraged to bring a picnic, and perhaps, a bottle of wine. A refreshment wagon is also available, serving a range of hot and cold food and drinks. Adjacent on-site parking is free- subject to ground conditions being suitable, otherwise ample parking along Engine Lane.
Entry is by pre-purchased tickets. Contact the Friends for details and tickets and come and enjoy theatre in this magical atmosphere.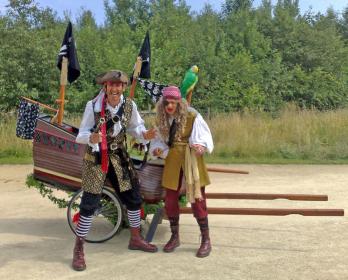 In 2008, 'Treasure Island' by the Quantum Theatre Company was also promoted as part of the Eastwood Arts Festival. It provided a wonderful family event on a blistering summers day. To enhance the fun, a pirate-costume making workshop took place – so the site was full of very suspicious looking characters with spotted headbands, eye patches and cutlasses!